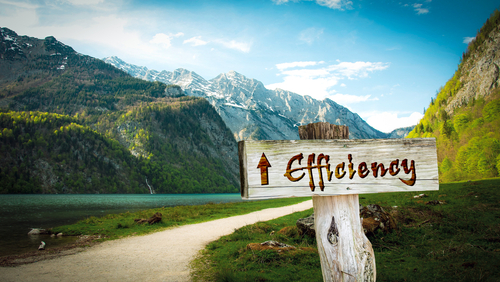 On those cold winter mornings, there's nothing better than pulling up the covers and feeling the furnace turn on, keeping you cozy and warm. 
But, did you know that heating your home uses more energy and costs more money than any other system in your home? Energy Saver – an office of the U.S. Department of Energy – notes that heating your house makes "up about 42% of your utility bill."
While factors like home size and gas rates can affect your utility bill, so can the efficiency and age of your gas furnace. 
In this article, we're going to break down what you need to know about furnaces and more importantly, why your furnace could be losing efficiency. 
What does the furnace rating (AFUE) mean?
At its most basic, furnaces heat air and distribute the heated air throughout the house using air ducts. 
The efficiency of your furnace is measured by annual fuel utilization efficiency (AFUE), which must be displayed on all new units. AFUE measures how efficiently the furnace converts energy in its fuel to heat over a year. 
More specifically, a furnace with an AFUE of 90% means that 90% of the energy in its fuel becomes heat, while the other 10% escapes from chimneys and elsewhere. 
Keep in mind, that the AFUE does not include the heat loss that commonly occurs via the ducting or piping, which according to Energy Saver can be as much as 35% of the energy output. 
While electric heaters have higher AFUE ratings of 95-100%, they are often the least economic choice for homeowners given the higher cost of electricity. 
Why is your furnace losing efficiency?
Over time, it's common for a furnace to lose efficiency, due to age, as well as wear and tear. But, there are several things you can do to improve efficiency in your furnace, which will improve heating and result in lower bills.
1. Clean Your Filter
The most common reason for an inefficient furnace is a dirty filter. Most people don't realize their filter needs to be routinely changed, so they leave the same one in for months, or even years. If you don't change your heating system's filter on a regular basis, it not only hinders the unit's energy efficiency, it can cause long-term damage and reduce the air quality in your home. Check the unit for specifications, but the filter should be changed every few months, if not at least once a year.
2. Check for Air Leaks
It's not uncommon for even the most sound homes to have air leaks that cause the heated air to escape the house. If your house isn't properly insulated, your hot air (and your money) could be going out the window – literally. Heat can be lost through drafty windows and doors, through the ceilings, and even your walls

3. Your Radiators Are Blocked
Be sure and keep all baseboard heaters and radiators clear of furniture or other objects to ensure the heat is distributed evenly and as able to reach the entire house.

4. Check for Cracks, Loose Parts on Your Furnace
Loose parts and fittings can create enough space to reduce airflow and cause rattling. Don't forget to also check the blower fan, which can break or bend. Also, the fan belt is a good place to look for fraying. Lastly, check the combustion chamber for cracks.
5. Weatherize for Winter
In addition to ensuring your furnace is running properly, you should also be weatherizing your home each year. This means reinsulating areas that you know to be leaky or drafty. Use weather-stripping to block air leaks around doors and windows.

6. Check the Burner Flames
Inspect your burners and ensure they are free of debris. If your burner flames are blue, that means the burner is clean. If they're yellow, you have dirty burners. Turn off the power and gas and then vacuum your burners.

7. Check the Limit Switch
Did you know if your furnace has a bad limit switch your blower could be running all the time? This will result in a shorter life for your blower. When they fail, the heat is always on, making it very hot.

8. Clear Heat Pumps & Intake/Exhaust Vents
If your furnace vents to the outside, you should always make sure nothing is blocking the vents. Clear any leaves or debris in the area. If you have a heat pump, clear any debris from the fins of the outdoor compressor unit.
9. Update your Heating System
As heating systems age, they begin to lose energy efficiency. Even with a new filter and proper maintenance, a furnace that is 15-20 years old will not be nearly as efficient as it was when it was brand new. It may be time for a new furnace. 
Regularly checking and maintaining your furnace will help prolong the life of your unit and ensure cost-effective and efficient heating of your home. Before the cold grip of winter hits, consider whether or not you need a new furnace.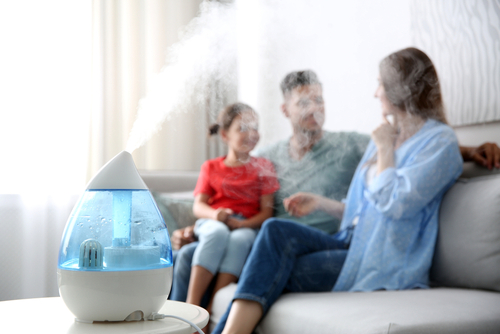 Humidity is the amount of water vapor in the air. When we think about humidity, we tend to associate it with hot days and how insufferable it can make the summertime. However, humidity isn't just a seasonal nuisance that frizzes your hair and makes you sweat. Paying attention to how much or little moisture you have in your home is crucial to your health and your home.
Learn why monitoring your humidity is important, how to check your home's level, and what steps you can take to regulate the water vapor for comfortable, safe living.
What happens when the humidity is too low in your home?
When temperatures drop in the winter, the moisture gets sucked out of the air. The moisture also gets sucked out of your skin and body, making it feel tight and dry.
Heating systems in your home worsen the problem because they cause the air to absorb any form of moisture they can. Often, that means anybody in your home becomes the sufferer.
Low humidity in the winter creates:
Dry skin
Sore or dry throats, and mouths
Nosebleeds
Irritated sinuses
Itchy eyes
Low humidity can also inflame and dry out the mucous membrane lining in your respiratory tract, which increases the risk of a cold, flu, and other infections.
The effects of low moisture can also take a toll on the items in your home. If the air in your home craves moisture, you may start to notice the splitting of wood floors or chipping of paint from your walls, which are two common locations that hold onto water vapor.
What happens if the humidity is too high in your home?
High humidity comes with a host of problems for your health and home as well.
With too much moisture in the air, you may notice:
Condensation on windows
Wet spots on walls and ceilings
Musty smells
Not only are these symptoms problematic to a homeowner because they will cost a pretty penny to repair, but they also come with another set of health issues to consider.
High humidity is the leading cause of mold and mildew growth in a home and can exacerbate — or create — asthma and allergy problems for your loved ones.
The Optimal Level of Humidity in Your Home (and How to Check It)
Too high, too low — what's the right level? How do you know how much humidity is in your home?
To combat a home with too high or low humidity, keep your indoor humidity range between 40% and 60%.
There are a few ways you can check the level of humidity in your home:
Use a hygrometer or an indoor humidity monitor which are both commonly sold at drugstores.
Look for signs: an increased amount of static electricity in your home or plants that are particularly thirsty are two signs that the humidity in your home is too low.
Call in an expert for a professional reading of your home's humidity level, and receive tips for balancing your home.
How to Fix Low Humidity in Your Home
Not all homes' HVAC systems have a form of built-in humidity control. If your system doesn't, you'll need to find a solution that helps balance the water vapor levels in your home.
A cheap, effective and quick fix is buying a portable humidifier. These can be purchased for under $50 and offer immediate relief for small, dry rooms.
If you need a fix for the entire area of your home, it may be best to invest in a whole-home humidifier. High-quality residential humidifiers connect directly to your home heating system and can control the humidity levels throughout the entire home.
Alternative options to a humidifier:
Boil water on your stove
Place bowls of water in various locations in your home
Take a shower or a bath to create steam
Keeping the water vapor levels consistent, and within the recommended range of 40% and 60% will keep you safe, comfortable and happy this winter season.
Looking for more tips to keep your home comfortable and efficient this winter? Check out these great resources: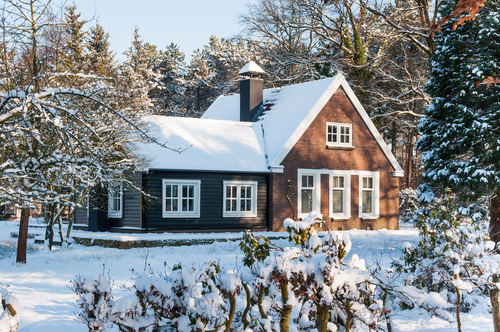 Winter is coming; is your house ready? We prepare ourselves for the winter by purchasing warmer clothes or installing snow tires on our vehicles, but many of us don't think about preparing our homes as well.
Still, just like anything else, your house is affected by cold weather and snow. By working through this simple, nine-step home winterization checklist, you can help keep your home warm and safe while keeping your energy bills low.
Step 1: Check On Your Heating System
Your first order of business, when getting ready for the impending cold snap, is to ensure you'll have heat when the chill arrives.
If you haven't run your heating system in a while, turn it on to make sure everything is functioning correctly. Additionally, it's wise to:
Clean air filters and vents: To safely clean your filters and vents, make sure your heating system is off. Then unscrew the duct covers and vacuum the ducts as much as possible. You can also use a broom or a brush to clean the vent.
Perform seasonal maintenance: Getting your furnace tuned up is a great way to prepare it for the winter season. Not only can you identify signs that your furnace is malfunctioning and can prevent long-term problems and wear-and-tear on your unit, but a tune-up will also help your system run more efficiently, allowing you to save money on your heating bills.
Check for carbon monoxide: According to the Centers for Disease Control and Prevention, 450 people die from carbon monoxide poisoning every year. And, more than 500,000 visit the emergency room due to exposure from the gas. The odorless, tasteless, and invisible gas can come from any piece of equipment in your home that uses gas, oil, coal, charcoal, and wood fuels. When you start your heating system up for the first time this year, it's important to test it for carbon monoxide leaks. To test, you can call in an expert to perform an indoor air quality test or a combustion analysis. You can also purchase a carbon monoxide gas detector from a home improvement store.
Step 2: Seal Drafty Windows and Doors
If you feel drafts in your home, your money could be going right out of the window – literally. Drafty windows and doors allow heated air to escape your home and cold air to enter it, which can increase your monthly heating bill by up to 25%.
To block drafts from coming through your windows and doors, consider adding the following material to door and window frames:
Weatherstripping
Foam tape
Re-caulking
Some homeowners also use insulated curtains as extra reinforcement for window drafts.
If you're unsure where the leaks are coming from, an energy audit can identify where leaks are occurring, and professionals can properly seal them in a matter of minutes.
Step 3: Winterize Your Air Conditioner
Have you taken proper measures to protect your air conditioner against the harsh winter?
Cleaning and covering the condensing unit staves off the damage that can be done by wet leaves and debris which can accelerate rusting or cause freezing in your AC unit's internal components.
Protecting your equipment means that when warmer months come around, your AC will be functioning properly.
Step 4: Check Your Roof 
If your roof shows signs of aging, not only will your heating bills increase this winter, but you may also be prone to leaks and water damage that can set you back some serious cash in repairs.
To see if your roof is winter-ready, check for:
Missing or damaged shingles
Flashings around chimneys for spots that may be prone to leaks
Moss, mold or rot which can indicate your roof has water damage
If anything looks awry, have repairs made immediately to secure your home for heavy snowfall.
Step 5: Replace Screen Windows and Doors
Take the time to remove all of the screen windows and doors in your house and replace them with storm windows and doors.
Besides adding a layer of insulation, and helping reduce air leaks, storm windows help protect your primary windows from winter elements, which screen windows would allow in.
Step 6: Test Your Generator
If the power goes out in the middle of winter, it's critical to be prepared to protect your family and your home. Many Northeasterners invest in a generator for a backup power supply in case the storms get too intense.
Before winter strikes, test your equipment to make sure it's functioning when you need it most. If you haven't in a while, give your equipment routine maintenance.
Check the oil
Change the fuel
Clean the equipment
For more tips, read six ways to maintain your generator. 
Step 7: Get Your Chimney, Fireplace and Flue Serviced
If your home has a fireplace, you should get your chimney inspected annually. In addition to the energy benefits it offers, it is crucial for your family's safety. Every year, 25,000 homes across the country suffer from fires due to poor chimney maintenance.
As a member of the National Chimney Sweep Guild, Santa Energy can clean your chimney and inspect it for potential obstructions. We also check the chimney draft to ensure the chimney will draw up the fire and smoke properly and inspect the brick inside your chimney for gaps and exposed walls that are susceptible to danger from rogue sparks.
Step 8: Protect Your Water Pipes
Protect your pipes from freezing this winter by insulating exposed piping, both inside and outside your home. Don't overlook piping in your attic, basement, or crawl spaces that aren't visible to you day-to-day.
To insulate the piping, wrap them with electrical heating tape first, then foam insulating sleeves (or more industrial material) to protect them from the winter weather.
If you plan to leave your home for the winter for an extended period of time, it's always wise to consider shutting off your water altogether to avoid and costly mishaps from frozen pipes or water damage.
Additionally, if you have a sprinkler system at your home, make sure to also blow the water out of their pipes as well to reduce cracking in your system.
Step 9: Make Your Home Energy Efficient
There are several small adjustments you can make to your day-to-day habits and home upkeep that will decrease your energy bills, even more, this winter. For example:
Hot water use: Install hot water-saving showerheads and faucet aerators to lower your energy use
Unplug from power: When you're not using appliances, make sure to unplug them from the wall to cut down on energy costs
Excess power usage: Turn off your T.V., and the lights in rooms you're not in to save energy
Upgrade your energy: Change your light fixtures to LED light bulbs for cost savings
For more recommendations to optimize your home's energy, or for more winterization tips, consider the following resources: