Can I Save Money With a Ductless Mini-split?
Written on: August 13, 2021
Discover the Benefits a Ductless Mini-Split Can Bring to Your Home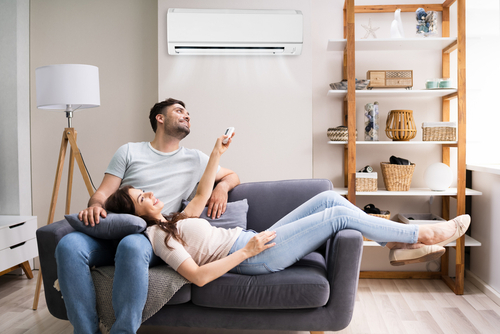 It's been a pretty muggy summer here in Fairfield and New Haven counties. When you come in from the humid outdoors, nothing feels as good as the cool breeze from an air conditioner.
If you're looking to upgrade to better air conditioning than unsightly, inefficient window A/C units, Santa Energy has a great solution with our ductless mini-splits that save you money and save you time, right from the start!
No Ductwork Saves Money
Central air conditioning requires having ductwork in your home. If you don't have ductwork, installing it is a complicated, mess, and costly job. It can cost $5,000 or more to add ductwork, depending on the size of your home and the labor involved. Then there's the added cost of the central air conditioning system, which has a national average cost of about $5,700.
Ductless mini-splits, on the other hand, can be easily and affordably installed. It often takes less than a day!
Air ducts provide a good way of distributing cooled air from a central air conditioning system throughout a home — providing they are in top working condition. But over time, leaks can develop in your home's HVAC ductwork. When that happens, your central A/C is going to waste energy as it makes up for air losses through the ductwork. Those leaks can dramatically increase your energy costs. Because ductless mini-splits have no ductwork, there's no risk of any such problems.
Save With Zoned Cooling
Zone control systems with central air conditioning are an upgrade for most homeowners, but it is not automatically included in zone heating and cooling. When you choose a ductless mini air conditioner, the individual blower heads offer zone control. With ductless mini-splits, there's no need to waste energy cooling your unoccupied bedrooms during the day when you want to cool the living areas.
Better Than Window Air Conditioners in Every Way
If you're lucky and take good care of your window air conditioning units, you may get eight to 10 years out of them before needing to replace them. Window air conditioning units can cost up to $500 apiece, more if you need specialized units for casement windows and other non-traditional windows. If you have window units in each bedroom, plus a few in living spaces such as the family room of home office, that can add up!
Ductless mini-splits, on the other hand, can last up to 30 years with proper maintenance.
There may be additional costs of installing them in the spring and uninstalling them in the fall if you are unable to safely install them yourself. Ductless mini-splits are permanently installed, so you don't have to worry about that.
The efficiency of window A/C will decline as it ages, driving up your energy costs. On average, ductless mini-splits use 40% less electricity than a window unit.
Ready for the efficient, easy, and cost-effective comfort of ductless mini-splits in your home today? Get in touch with us today for a FREE estimate!