Propane Tank Installation and Leasing
Comfort You Can Count On
Buying your own propane tank means a lot of expenses up front and a lot of hassle and expense in the future. Purchasing and installing a propane tank can cost thousands of dollars. You are also responsible for all maintenance and repairs.
When you lease your propane tank from Santa Energy, you don't have to worry about any of that. Our cost-effective leasing plan means maintenance and upkeep of your propane tank are our responsibility.
Whether you choose leasing or buying your propane tank, we provide safe and expert installation for both aboveground and underground tanks.
Choosing the right size propane tank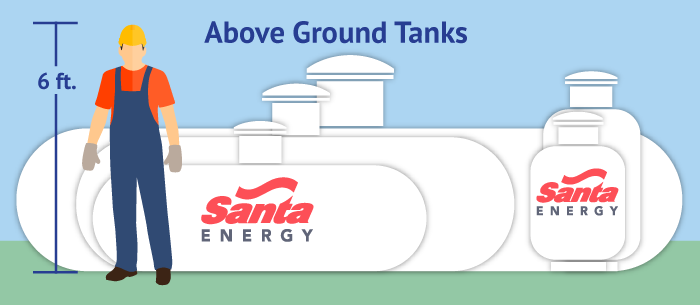 Our propane tanks range in size from 60 gallons to 1,000 gallons. What size is right for you? We will help you find out.
We first discuss how you are using propane in your home, such as for heating, cooking and water heating. Then we will talk over other options for using propane in your home, and your future use of propane. As your trusted advisor, we always recommend sizing for the future rather than the present. If you have children, for example, your water heating demands will increase as they get older. You may decide in a few years to add propane appliances such as a fireplace insert or range. If you choose a propane tank size based on now rather than the future, you're going to need propane delivered more frequently.
Underground propane tanks
Underground propane tanks offer many benefits. If you have a small yard, it is not going to be dominated by a propane tank and you'll have more room in your yard. Your propane tank is protected from the elements. The benefit many people love about underground propane tanks is that the tanks are out of sight.
Installing your propane tank underground is safe for your home. There is no environmental risk of a tank being underground, as propane is nontoxic and does not harm soil or plant life.
Wireless tank monitoring for peace of mind
Our wireless propane tank monitors use cellular and wireless technology to enable us to know precisely how much propane is in your tank, any time of the day or night. With that information, we will schedule a propane delivery to your home exactly when you need it. No more worries about running low on propane or, worse, a propane runout. And, thanks to an easy-to-use app, you can keep track as well!
Contact us for professional, safe propane tank installation!