Santa Energy: Your Reliable Propane Service Company
Comfort You Can Count On
When Stephen and Madelyn Santa launched Santa Energy in 1940, their office was in their Stratford, CT, home and they had only one delivery truck.
They had something else: a determination to provide the most reliable, courteous service to their customers. That determination never waned as they grew the business.
That continuing commitment to reliability and respect for our customers is why Santa Energy is trusted by so many of your neighbors for propane delivery and service.
Comfort You Can Count On is more than a slogan. It is at the heart of how we run our business. Earning and keeping the trust of our customers is our goal every time we provide service.
Santa Energy's core values
Customer-focused: Our propane delivery is centered on giving our customers reliability and peace of mind when it comes to their propane supply. We deliver your propane when we say we will. Our pricing and payment options let you take more control of managing your propane costs.
Professionalism: When we are at your home for a propane delivery, propane tank installation or propane appliance installation and service, we respect your home and your time. It shows in our punctuality, our courtesy and our attention to detail, like getting the job done right the first time and leaving the work area cleaner than we found it when we finish a service call or installation.
Knowledgeable: Santa Energy customers trust us with their home's safety and comfort. Our staff spend hours each year in training and continuing education to make sure they are up to date on the latest best practices for fuel delivery, equipment service and safety. This makes us a Trusted Advisor for our customers in all their propane services.
Accountable: We keep our word. If we say we're going to deliver your propane at a certain time, we're there. We stand behind what we sell. When you need us, you can call us any time of day or night and reach a Santa Energy employee who is ready and happy to help.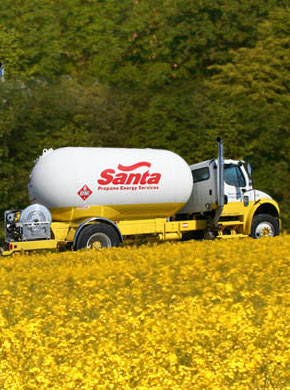 Become a Santa Energy customer and get comfort you can count on!