Indoor Air Quality Equipment
Comfort You Can Count On
It is more important than ever to make sure that the air inside your home is clean and safe – to protect your health and the health of your loved ones.
Santa Energy can take care of that for you with our indoor air quality equipment which is safely and expertly installed, maintained, and repaired by our trained and knowledgeable service technicians.
Before we install your equipment, the Santa Energy equipment experts will discuss thoroughly with you all your needs and concerns for indoor air quality.
Our experts find out whether you have pets, or if someone in your home has allergies or a respiratory condition like asthma, emphysema or COPD. We learn about your home, its size, and issues related to its indoor air quality. Then we take that information and use it to make sure you get the indoor air quality equipment that meets your needs.
Breathe easier with an electronic air cleaner
Do you know what is in the air in your home? Here are just a few of the things you may have:
Viruses
Bacteria
Dust
Allergens (pet dander and pollen)
Mold
Volatile organic compounds
Static electricity
Airborne particles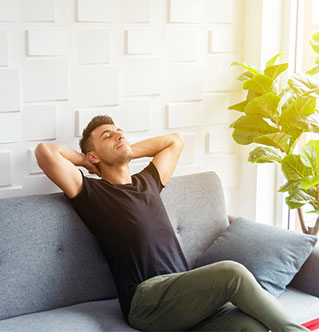 And then there are just plain old odors from things like cooking, smoking and mustiness.
A Honeywell electronic air cleaner can help with all of that. It has a three-stage filtration system that traps almost all airborne particles that pass through it. It can work with oil-fired, gas-fired or electric HVAC systems.
The electronic air cleaner is also environmentally friendly, because you are not throwing out dirty filters. The filter is removed and cleaned by hand, then put back in the air cleaner.
Be more comfortable with humidifiers
Dry air in your home is uncomfortable in many ways. It can make your skin dry and itchy. You can get a sore throat, dry and cracked lips, and a dry nose. Dry air increases static electricity. It can exacerbate allergies and asthma and can make you more vulnerable to colds.
And then there's what dry air does to your home. It can dry and split wood, damaging furniture, flooring, cabinetry, doors, picture frames, built-ins and trim. Paint and plaster can be degraded over time and can chip.
Whole-house humidifiers help you get the right amount of humidity into your home so that you and your family are comfortable. In fact, you may be so comfortable that you turn down the thermostat, saving you money on energy costs!
Our experts will carefully go over your home's dryness issues and help you select the right humidifier to fit your home and your budget. We also provide safe, professional installation, maintenance and repairs.
Santa Energy offers transparent, competitive quotes for indoor air quality equipment. Get a quote for your home today.