Oil Pricing and Payment Options
Manage your family's comfort with price and payment options!
To help you manage your family's comfort expenses, Santa Energy offers several pricing and payment options. The most common way our customers purchase their heating oil is on a Daily Floating Price. Over 70% of our customers do not lock in to a price protection plan. Price protection plans are designed to give you peace of mind about your price; they are not a guarantee that you will pay the lowest rate. Please read the terms and conditions carefully before agreeing to a price protection plan. Please contact us about our latest price offers.
Pricing plans
There is no perfect way to ensure your family will pay the lowest price for heating oil every year. We offer four pricing options; Value Flex, Fixed, True-Cap and Pre-buy, so you can decide which one is right for you!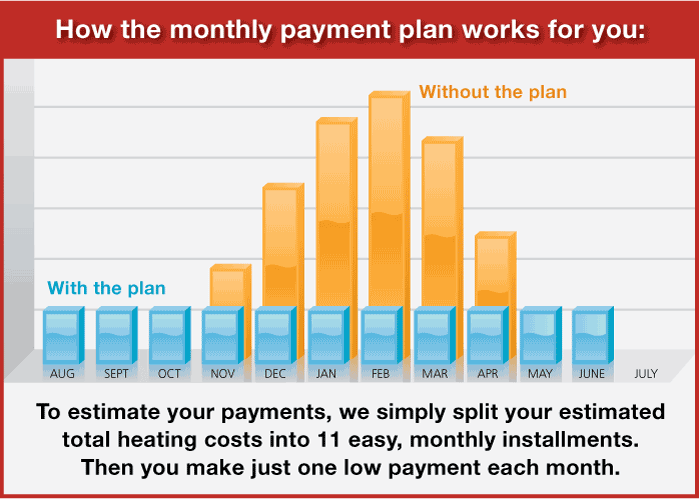 Our Value Flex plan is the most popular choice. There is no enrollment form to complete and no enrollment fees. You'll pay the daily rate on the day you receive a heating oil delivery. The price will vary based on market conditions.
Fixed Price Plan
In the Fixed Price plan, you lock in a price per gallon that you will pay for the heating oil season (all price protection plans expire April 30th). Your price will not move up or down based on market conditions. This plan requires a signed agreement. This plan is best for customers who want to protect against possible price spikes and are willing to risk paying higher prices if the market price drops.
Tru-Cap Plan
The Tru-Cap Plan places a cap or not-to-exceed price on your heating oil for heating oil season. If our daily price falls below your cap price per gallon, you pay the lower price. There is a fee to have a cap plan, and a signed agreement is required. This plan is best for customers who want to protect against price spikes and are willing to pay a little extra to get the benefit of lower prices.
Pre-Buy Plan
Pre-Buy plans are the same as the Fixed Price Plan, but the customer receives the benefit of a lower rate by paying for all their oil in full in advance of the heating oil season.
Even-Pay Plan
The majority of the heating oil your family will consume happens during the peak 90-days of winter. That is a lot of household expenses to fit into a three-month window. Our Even-Pay Plan spreads your delivery costs over 11 even, manageable monthly payments. With predictability, you can better plan your household expenses and avoid unexpected expenses.
Auto Pay
Your monthly payment will be automatically charged to your credit card or deducted from your checking account. You'll have peace of mind because you'll know that your payment is always on time. Auto pay Even-Pay customers receive a $.05 per gallon credit to their account at the end of every Even-Pay season.
Contact us with any questions you have about our pricing and payment options!