Indoor Air Quality: More Important Than Ever!
Written on: September 13, 2021
Santa Energy helps you breathe easier in your home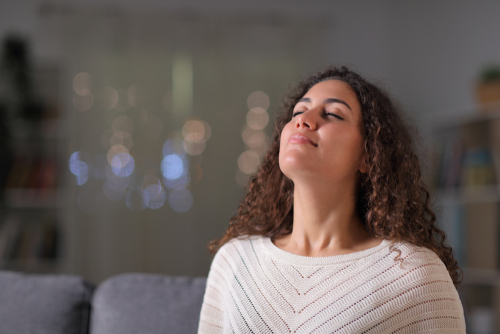 The past year and a half have brought home the importance of safe, healthy air, not just in public spaces like workplaces, stores, and restaurants, but in our own homes.
Santa Energy offers indoor air quality solutions so you can keep your home and loved ones safe with our expert installation and service. Our Honeywell electronic air cleaner uses a three-stage filtration system to trap virtually all airborne particles as they pass through. We also sell, install, and service whole-house humidifiers and dehumidifiers.
What's in my home's air?
Your HVAC system has an air filter. It can trap some of the particulates in your home's air, such as dust, dirt, pollen, and pet dander.
But it can't trap close to all of them as our electronic air cleaner does. And they do nothing against air-borne viruses, mold, germs, bacteria, or volatile organic compounds (UVC).
The Honeywell electronic air cleaner helps not only clean your air of these pollutants, they also take out odors from cooking and smoking, making your home's air more pleasant.
How indoor air quality impacts your health
There may be both immediate as well as long-term effects on your health when it comes to poor indoor air quality in your home. Some immediate effects include:
irritated eyes, nose, and throat
headaches
dizziness
fatigue
aggravated symptoms for allergies, asthma, and other respiratory disorders
Prolonged exposure to indoor air pollutants can be very bad for your health, causing or exacerbating health problems such as heart disease, respiratory conditions like COPD, cancer, and more.
Indoor air quality problems can also have negative impacts on your home and belongings. When the weather is damp or humid outside, it can also be damp and humid indoors. This causes unpleasant and musty odors, as well as conditions ripe for mold and mildew formation, which are unhealthy.
Dry air indoors is not only unpleasant, but it makes you more susceptible to colds and other illnesses. It can also harm wood flooring, moldings, and furnishings.
Whole-house humidifiers and dehumidifiers are much more effective and energy efficient than portable humidifiers.
Santa Energy has the equipment, knowledge, and experience to make sure your indoor air quality is as safe and healthy as can be. Contact us today for a FREE quote.