Propane Delivery in Monroe, Connecticut
No One Provides More Reliable Fuel Delivery Than Santa Energy
Do you need a dependable, friendly home energy partner to keep your heating system humming and your propane-fired appliances fueled? For the most trustworthy propane delivery in Fairfield County, Santa Energy has you covered!
We began delivering fuel in 1940 with only one truck. We built trust for more than 80 years with a commitment to professional, knowledgeable, customer-focused service. The homes and businesses we serve know we live by our motto: Comfort You Can Count On.
We are available by phone 24 hours a day, seven days a week. Call us at 800-937-2682.
Our office is located at:
154 Admiral Street
Bridgeport, CT 06605
Hours:
Monday: 7:30 a.m. to 5 p.m.
Tuesday: 7:30 a.m. to 5 p.m.
Wednesday: 7:30 a.m. to 5 p.m.
Thursday: 7:30 a.m. to 5 p.m.
Friday: 7:30 a.m. to 5 p.m.
Saturday: Limited Hours
Sunday: Limited Hours
Unparalleled Propane Delivery and So Much More
Our professional, courteous drivers provide the most reliable propane delivery in Monroe and all of Fairfield County. Santa's valued customers enjoy:
Automatic Delivery, where we calculate your propane levels and deliver fuel before you run low.
Propane Tank Monitoring uses wireless and cellular technology to inform us how much propane is in your tank in real-time.
Convenient pricing and payment plans, including:
Budget Plan — Spread your propane costs over 11 predictable, affordable payments.
Value Flex Plan — Our no-fee pricing plan guarantees the rate on the day you purchase your propane.
Fixed Price Plan — Lock in your propane price and avoid the fuel rate roller coaster.
AutoPay — Provide a credit card or checking account number, and we will electronically deduct your monthly payment. No more mailing a check!
Affordable Propane Tank Leasing with help from our knowledgeable team members.
Installation, Maintenance, and Repair Services on propane-fired equipment, including boilers, furnaces, water heaters, and generators. We also offer Santa Energy Service Plans to keep your equipment working at peak efficiency and save you money on repairs.
Santa Energy also installs and services air conditioning systems and indoor air quality solutions. We offer a slate of commercial propane services too!
Serving Families and Businesses in Historic Monroe, CT
Incorporated in 1823 on land purchased from the Paugusset nation in 1671, Monroe is named after James Monroe, the fifth president of the United States. In the 19th century, it was a quiet farming community. Through the years that followed, Monroe has grown steadily into an attractive, prosperous residential community. Local Connecticut said the town "has not lost its character and charm. Monroe is a small family-oriented community with recreational facilities and a variety of restaurants and shops."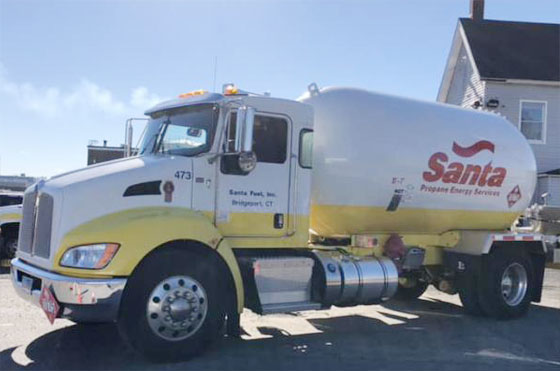 Monroe's attractions include:
Daniel Basset House
Great Hollow Lake
Rails to Trails bike paths
Stepney Cemetery
Thomas Hawley House
Warren's Occult Museum
Webb Mountain
Wolfe Park
Santa Energy's Customers Love What We Do!
"After a bad experience with another company, I decided to switch to Santa — the best decision! Anthony helped me with everything. Extremely professional, clear transaction. Fast and efficient service. Highly recommended, very satisfied!" —Erika B.
"I am very pleased with Santa Energy. We never have to call for a delivery. The app is very convenient, their customer service reps helpful and the service technicians very thorough! A definite recommend!" — Tee M.
We Want to Serve Your Fairfield County Home
For over 80 years, Santa Energy has delivered propane and top-tier customer service to Monroe homes and businesses. We want to do the same for you. Contact us to become a customer.