Propane Makes Your Outdoors Great!
Written on: March 14, 2022
Discover all the ways propane can enhance your backyard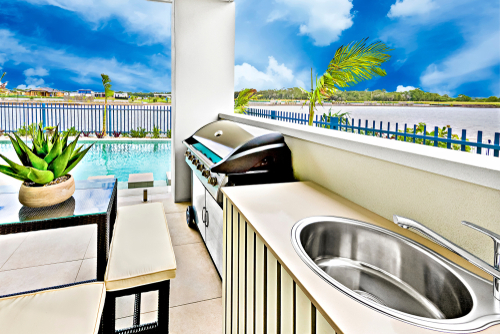 Everyone thinks you have to plan a major vacation to have fun in the summer, but what if we told you that you could escape right in your own backyard?
With another awesome Connecticut summer on the way, we're all looking forward to getting outside and enjoying it. Propane can help you do that with outdoor propane appliances that turn your backyard into a hub for fun and relaxation.
You can enjoy a wonderful summer at home with reliable propane delivery from Santa Energy!
Here are some ideas for using propane to get the most out of summer. 
Create your dream outdoor kitchen
When it comes to propane and outdoor living, grilling is usually the first thing that springs to mind. There's a reason for that: nothing beats propane when it comes to grilling! Grilling with propane is fast and easy and allows the taste of your meal to shine rather than being obscured by smoke. You can also connect your propane BBQ grill to your home's propane tank for grilling whenever you want without worrying about an empty cylinder. 
Take a dip
Your pool and spa are significant investments in your home as well as your fun and relaxation. Propane makes it possible for you to enjoy them even more. That's because propane gas pool heaters and spas are far more energy efficient and cost-effective than electric ones. For example, according to the U.S. Department of Energy, propane pool heaters have efficiencies as high as 95%. That means that for every dollar you spend on propane for heating your pool, 95 cents of it will go directly into heating. Propane pool and spa heaters heat water considerably faster than electric pool and spa heaters. You'll be able to use your pool and spa more often.
Create spaces for socializing and relaxing
Your backyard is where you spend quality time with your friends and family. Propane allows you to set up areas to enjoy alone or with others. Even if it gets chilly after dark, propane patio heaters allow you to dine outside. The ideal location to socialize with your friends over wine or chill out with the family is a propane firepit. Propane fireplaces are ideal for relaxing with a good book and a cup of tea. 
So long, bugs!
Mosquitoes can ruin your time outside in the yard. Mosquitoes are attracted to human breath, which is why a propane-powered insect trap imitates it to capture them and keep them away from you.
Become a Santa Energy customer for propane delivery and comfort you can count on!