Gas Fireplaces & Log Sets Create Cozy Comfort
Written on: December 13, 2021
Enjoy ease and convenience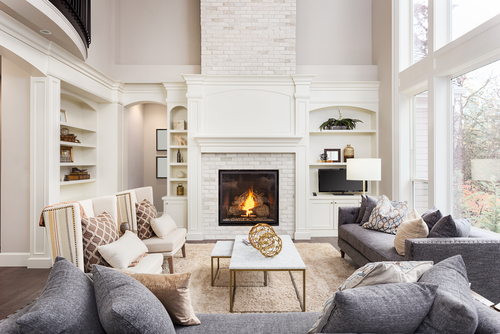 Nothing says winter in New England quite like a fire in the fireplace. However, many folks here in Fairfield and New Haven counties aren't enjoying that seasonal comfort.
You may have thought that if you didn't have a masonry fireplace in your home, you were out of luck. Building a masonry fireplace can cost tens of thousands of dollars, and you have to live with a mess in your home during construction.
If you have an older home, whether it's a farmhouse in Easton or a colonial in Bridgeport, repairing or replacing the fireplace and chimney may be cost-prohibitive.
Santa Energy has solutions that will have you curling up in front of a fire: gas fireplaces and gas logs sets. Our knowledgeable and experienced service technicians will expertly install them in your home.
Gas fireplaces: Comfort and convenience
If you have an existing fireplace in your home, we can add a gas fireplace insert so you can make the fireplace a focal point in the room.
No fireplace? No problem! Gas fireplaces come in an array of sizes and styles so you can choose the one that best fits your space.
The right gas logs for your home
There are several factors that go into the selection of gas logs for your fireplace.
One is the size of your fireplace. We'll make sure the size and scale of the gas logs work for it.
Something else to consider is whether you want your gas logs to be vented or vent-free. Both have advantages, but factors such as aesthetics, efficiency, and local regulations need to be considered. We'll walk you through that selection.
The amount of heat generated by gas logs is measured in British Thermal Units (BTUs for short). The size of the space, the sort and quantity of insulation you have, the height of your ceilings, how many windows are in the area, and whether the area contains carpeting or hard-surface flooring such as wood or tile all influence how many BTUs will be needed to warm your space. Too few BTUs will be insufficient for warmth. Too many BTUs will use too much gas, unnecessarily increasing your fuel costs. We'll assist you in this so that your gas logs can give off the correct amount of heating power while still giving off a pleasant heat.
You also get to choose the style of gas logs. Are you looking for a coastal look for your Southport home? Driftwood gas logs are perfect. Do you want something rustic for your cottage in Oxford? Check out pine and birch gas logs. Is your Ridgefield Victorian more suited to a traditional look? Classic oak gas logs may be the way to go.
Contact us today to get started on adding the comfort of a gas fireplace and gas logs to your home!