What Size Heating Oil Tank Do I Need?
Written on: February 14, 2022
Santa Energy is here to help!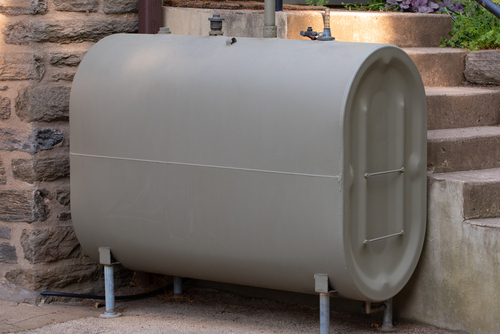 Heating oil tanks are made to be durable. However, they will eventually need to be replaced.
If your heating oil tank is more than 20 years old, it's time to start thinking about replacing it. You don't want to be caught off guard by a tank failure, or the stress, expense, and inconvenience that go with it.
You can trust that Santa Energy will install your heating oil tank meeting all regulations and codes, get any required permits, will handle disposing of your old heating oil tank, and will make you aware of any municipal or state fees for tank disposal.
Before you go shopping for a new heating oil tank, there are a few things to consider.
The size of your heating oil tank
Two figures matter here: The capacity of your heating oil tank (measured in gallons) and the dimensions of the tank (height, length, and width).
The capacity is commonly found stamped on the tank. If your tank doesn't have this figure, you'll have to estimate using the dimensions.
A typical home heating oil tank size is 275 gallons and comes in either a vertical (275V) or horizontal (275H) orientation. There are other tank sizes, depending on it they are installed above ground or underground. Other aboveground tank sizes are 288, 340, 420, 500, 550, 675, and 1,000 gallons.
Other things to know before you buy a heating oil tank
The most crucial step is to measure the area where your new heating oil tank will be installed so you can be sure it will fit.
When it comes to heating oil, be sure to talk about your needs now and in the future Santa Energy's heating oil experts. If you're planning on expanding your family or having elderly parents move in, you'll need more heating oil, so you may want a larger tank than your current one.
Santa Energy offers ProGuard heating oil tank insurance, which provides $50,000 of coverage for tank replacement and cleanup costs in the event of a heating oil tank failure.
Whether you are in Norwalk, Newtown, or anywhere in southwestern Connecticut, Santa Energy provides reliable, complete heating oil services. Become a customer today!