Create Your Dream Backyard With Propane
Written on: June 16, 2021
Propane Is For More Than Your Grill!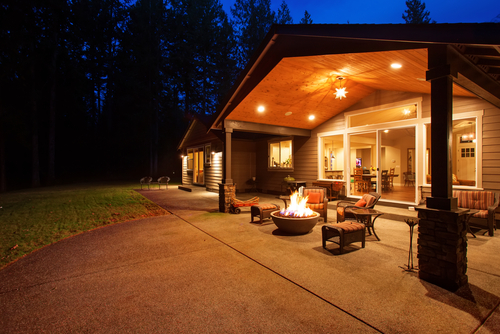 After this past year, we're looking forward to a wonderful Connecticut summer and being together again with family and friends – in the backyard.
Adding propane outdoor appliances to your backyard can make those get-togethers even better. Santa Energy offers dependable propane delivery as well as expert tank installation.
Propane Possiblities For Your Outdoor Space
Make Your Grilling Great With Propane
Propane offers so many advantages over charcoal when it comes to grilling. It's ready to grill in about a third of the time it takes a charcoal grill to get going. A propane grill gives you precise, instant temperature control. Because propane is clean-burning, there's no smoke flavor or smell to overwhelm lighter foods such as chicken, fish, fruits, and vegetables. You don't have to deal with messy ashes.
Keep the Fun Going
It can get a bit chilly sometimes after the sun goes down. But you don't have to go inside when you have propane patio and deck heaters. They also help to extend your outdoor season to earlier in the spring and later into the fall.
Enjoy Your Pool And Spa More
Your pool and spa are major investments in your home, your family, and your quality of life. Propane pool and spa heaters let you enjoy them in comfort. They also get your water hot much faster than electric pool and spa heaters and are dramatically more energy-efficient.
Create Spaces To Gather And Relax
Propane fireplaces and firepits don't only make your backyard look great, they provide perfect spaces to hang out with family and friends. They provide cozy ambiance, and can also be used to roast marshmallows for s'mores. Or you can enjoy them all by yourself with a glass of wine and a good book.
Propane Helps You Not Get Bugged
If mosquitoes are sending you inside, there's a solution. Propane insect traps use moisture and carbon dioxide to mimic human breath, luring mosquitoes away from you and into the trap where they meet their end.
Become a Santa Energy customer and get dependable propane delivery service!