Reliable Propane Delivery in Newtown, Connecticut
Constitution State Customers Trust the Pros at Santa Energy
Santa Energy offers best-in-class propane delivery for homeowners and businesses in beautiful Newtown and throughout Fairfield County. With over 80 years of experience and a lot of trust built in the community, we are proud to provide comfort you can count on.
We are available by phone 24 hours a day, seven days a week. Call us at 800-937-2682.
Our office is located at:
154 Admiral Street
Bridgeport, CT 06605
Hours:
Monday: 7:30 a.m. to 5 p.m.
Tuesday: 7:30 a.m. to 5 p.m.
Wednesday: 7:30 a.m. to 5 p.m.
Thursday: 7:30 a.m. to 5 p.m.
Friday: 7:30 a.m. to 5 p.m.
Saturday: Limited Hours
Sunday: Limited Hours
Superior Propane Delivery and HVAC Services
Are you looking for professional, dependable, customer-focused propane delivery? Santa Energy offers the most reliable fuel delivery in Newtown. You can depend on us to keep your propane tank filled, and we provide these additional options:
Automatic Delivery — Let us calculate your fuel use, and you will never run low!
Propane Tank Leasing — Our skilled team helps you choose the perfect propane storage option.
Wireless Propane Tank Monitoring — With our monitors, you and Santa can track propane levels in real-time.
Santa Energy also offers several payment and pricing programs to meet your particular needs:
AutoPay — Tired of mailing checks to pay your fuel invoice? We can automatically charge your credit card or checking account.
Budget Plan — Instead of paying in bulk on delivery, spread your propane costs over 11 even monthly installments.
Value Flex Plan — For no additional fee or minimum purchase amount, we guarantee the lowest rate on the day you purchase your propane.
Fixed Price Plan — Bring stability to your energy budget by locking in your propane price.
We also offer a variety of commercial propane services.
At Santa Energy, we install and service a range of HVAC equipment and home appliances, including:
When you protect your equipment with a Santa Energy Service Plan, you receive priority service from our stellar technicians, who will keep your systems working at peak performance.
Newtown — From the Revolution to Today
Newtown was incorporated in 1711 on land purchased from the Pohtatuck nation five years earlier. At the start of the Revolutionary War, it was known as a haven of British Loyalist sentiment. However, Newtown also served as an essential camp for French ally Gen. Rochambeau during the war.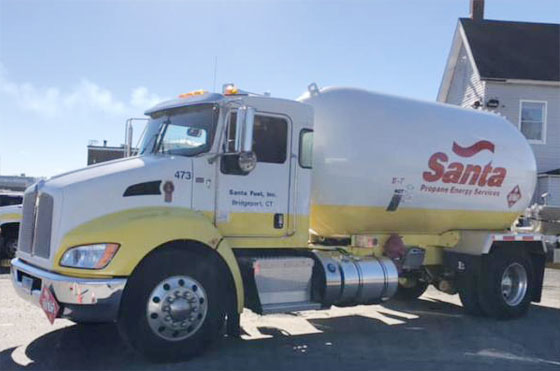 In the 19th century, Newton moved from being a purely farming community to attracting diverse manufacturing, including buttons, combs and hosing. Today, it's a primarily residential town.
Famous Newtown residents include:
Doug Kenney, co-founder of National Lampoon
Elia Kazan, director of stage and screen
James Brunot, inventor of Scrabble
James Thurber, writer
Suzanne Collins, Hunger Games author
What Our Customers Have to Say
"I switched to Santa and have been 100% satisfied. I find their customer service to be responsive and knowledgeable. Their technicians installed a new propane tank and did boiler maintenance as scheduled — on time and professional." —Les. A
"My boiler went down on a cold Sunday, and Santa had service people here within a couple of hours. They saved my day … I've been with them for many years and never had anything but great service." —Alan S.
Does Your Fairfield County Home Need a Dependable Propane Partner?
At Santa Energy, we dedicate ourselves daily to delivering comfort and peace of mind to Connecticut homes and businesses. Become a customer today.