Upgrade Your Home With Solar Energy
Written on: July 18, 2022
Santa helps you cut energy costs & shrink your carbon footprint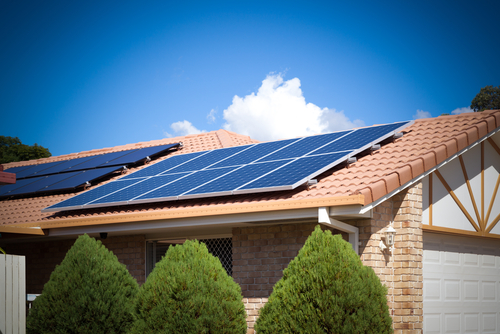 Have you been considering adding solar energy to your Southwestern Connecticut home? If you are, you don't have to go with a business you've never heard of. Put the knowledge, skill, and outstanding personal service of Santa Energy to work for you with our residential solar services!
Residential solar service tailored to your home
Installing solar panels on your home is not a one-size-fits-all job. That personalized service starts with us coming out to your home, going over your objectives, and carefully determining where your solar panels should be installed for those objectives. We'll know how much power your panels will produce and offset and see if you should also use our battery backup program. With that data, we'll customize your solar panel installation.
Santa Energy handles securing any local permits you need for the project so you know your solar energy system will be installed safely to meet all local codes. We'll also take care of any required utility approvals.
Like our HVAC service technicians, our team of solar energy technicians are skilled, trained, and experienced and uphold our high standards for quality work, safety, reliability, and courtesy.
Benefits of solar power
With solar power in your home, you gain more control of your energy costs. First, it minimizes the impact on your household budget from any price hikes by your electrical utility. Second, because you're using less electricity from your utility, you won't be paying as much for your electricity.
Our battery backup system lets you store electricity in case the power goes out. It connects with both your solar array and your home's electrical system, turning on when there's a power outage so your home stays safe and comfortable.
You can feel good about using solar power because you are also reducing the environmental impact of your home. About half of the electricity generated in the U.S. is generated by coal-fired power plants. By using solar energy, you're helping to fight climate change and other environmental damage.
The Santa Energy advantage
Adding solar energy to your home is a major investment. You need a solar company you can trust. For Southwestern Connecticut, that solar company is Santa Energy.
We're not some fly-by-night company or a national corporation. Santa Energy is a family business, locally based right here. We've been providing outstanding service to our neighbors for more than 80 years.
If you need any service with your solar energy system, you know that we'll be here for you. "Comfort You Can Count On" is more than a slogan. It's the foundation of everything we do. You don't have to call some far-off call center to reach us. You get someone from right here, who treats you with the respect and responsiveness our customers deserve.
Do you have questions about Santa Energy's solar services? Please get in touch with us and we'll be happy to answer them!